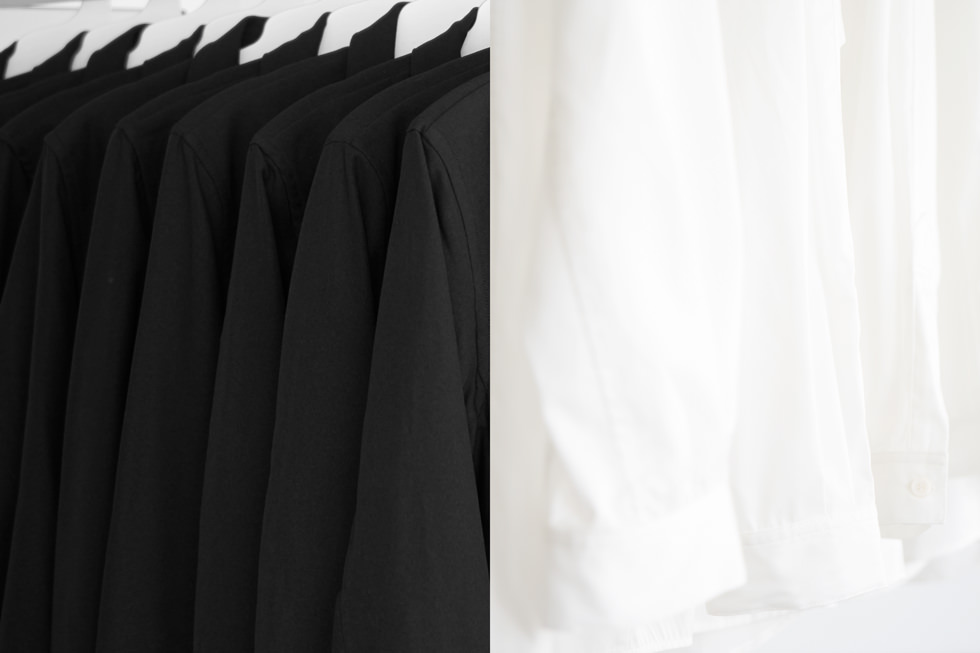 CHARACTERISTIC
Daily wear which combines comfort, functionality and the "real clothing" feel.
Narrow, minimalist designs and
functional pattern making.
Easy-care textiles and
the distinctive usefulness of work wear.

Versatile coordination and colour development to suit all occasions.

Gender-free garments and design.
MATERIAL
We use high quality materials with superior functionality and environmental friendliness.
Our most prized material is SOLOTEX®, with its ability to "make fabric products feel more comfortable to wear or use."
SOLOTEX®
SOLOTEX® has unlimited potentiality to make fabric products feel more comfortable to wear or use. It is a material that provides a soft, stretchy texture with gentle cushioning and offers vivid colours.
Amazing softness
Excellent stability
Comfortable, long-lasting stretch recovery
Ease of combining with other fibres
Outstanding dyeability
*A proportion of the polymers in SOLOTEX® are derived from plants. *SOLOTEX® contains polytrimethylene terephthalate (PPT).
Comfort and softness beyond your wildest dreams
Soft & Smooth
From the moment you first touch it, you will understand the softness of SOLOTEX®. Its smoothness on your skin is superior even to cashmere, which has long been the pinnacle of luxurious softness. Moreover, SOLOTEX® blends seamlessly with other natural fibres, bringing out the best in those materials their without losing its superior texture or softness.
Resistance to wrinkles, creases and stretching
Form Stability
Wrinkles, creases and stretching are the bane of the fashion world. Thanks to its spring-like helical molecular structure, SOLOTEX® is astoundingly resistant to wrinkles, creases and stretching at the knees and elbows. This enables garments to keep their beautiful silhouette for longer.
Smooth, light stretchiness which feels wonderful
Comfortable Stretch
Thanks to SOLOTEX®, tasks such as commuting by bike in your suit are comfortable and stress-free. SOLOTEX® allows you to move in complete freedom and comfort, all while maintaining a sense of fine tailoring and a beautiful silhouette. It expands and contracts in accordance with your movements without ever constricting you, even when wearing tightly-fitting garments.
Harmony which brings out the quality of other natural fibres
Harmonize
SOLOTEX® blends seamlessly with other fibres, bringing out their vibrant colours and wonderful textures. Its inate ability to mesh with natural fibres to provide new texture, sense and functionality creates a feeling of luxury never before seen in a textile.
Fluffy, pliable cushioning for years
Rebound
Soft, supple and spongy, as if made of marshmallow. SOLOTEX® offers superior cushioning with rapid recovery and high durability. Its uniquely soft texture lasts for years, making SOLOTEX® the ideal material for pillows and coat insulation.
Deep, vivid, luxurious colours that never fade
Deep & Rich Color
SOLOTEX® allows for the expression of deep, vivid colours while maintaining all of the benefits of a polyester. Its superior colourfastness enables rich, elegant and fashionable colour development which does not fade over time.
Plant-based ingredients for the benefit of the environment
Ecology
A proportion of the polymers in SOLOTEX® are made using plant-derived ingredients. This has led to a limit on the amount of valuable natural resources used in production, as well as a contribution to a reduction in greenhouse gases. In this way, SOLOTEX® offers limitless possibilities to designers while also being gentle on people and the environment.